Description
Power. Efficiency. Reliability.
640x512 30Hz New Thermal Imaging Sensor
Equipped with 640*512 high-resolution thermal imaging camera featuring a 13mm focal length lens and 16x digital zoom, it is easy to observe distant targets. The system uses a new image processing algorithm, making thermal imaging details clearer and more discernible than competition with the similar resolution and hardware.
DRI stands for Detection, Recognition and Identification.
| | Person | SUV | Truck |
| --- | --- | --- | --- |
| Dimension | 1.8*0.5m | 4.2*1.8m | 6*4m |
| Detection | 542m | 1661m | 2889m |
| Recognition | 135m | 415m | 722m |
| Identification | 68m | 208m | 361m |
Detection:Detect if an object is present.
Recognition:See what type of object it is (i.e. person, vehicle, airplane).
Identification:For example see if someone is a friend or foe.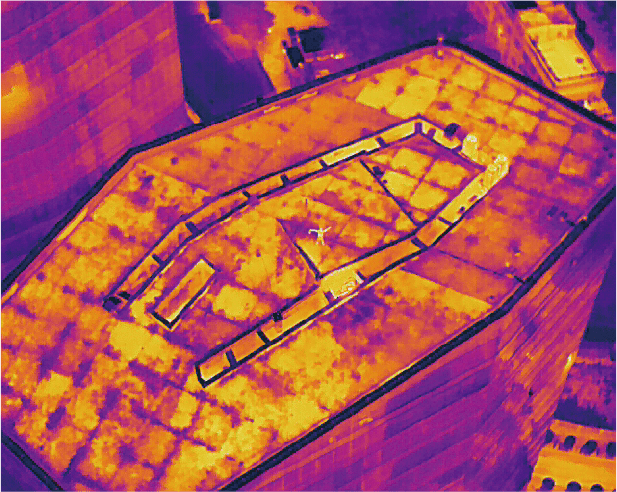 Multiple Temperature Measurement Modes
Central temperature measurement Spot temperature measurement Regional temperature measurement
Central temperature measurement: View real-time display of the temperature in the center area of the screen.

Spot temperature measurement: Tap the screen, and the temperature of the selected object will be displayed in real time.

Regional temperature measurement: Get a dynamic view of the average temperature, maximum temperature, and minimum temperature displayed in a selected area.
Temperature Alarm | Isotherm | Image Enhancement
Temperature alarm: Monitors the screen temperature in real time. The system prompts the user when the temperature reaches a set threshold.

Isotherm: Set a temperature range and the system will detect any objects within the temperature range specified.

Image enhancement: Supports real-time adjustment of image brightness, contrast, and image details. The system will highlight any objects within the temperature target.
10 Thermal Color Palettes
White Hot | Cold and Hot | Rainbow | Enhanced Rainbow | Ironbow | Lava | Arctic | Searing | Gradation |Heat Detection
Powerful Infrared Thermal Analysis Tool
IRPC TOOL: This free temperature measurement analysis tool is developed specifically for the 640T, and enables users to quickly import images, edit and analyze temperature measurements, and generate detailed reports for sharing and collaboration.
Picture-in-Picture Display Mode
Visual and thermal imagery are combined to help users quickly interpret data and aid in critical decision making.
50MP Ultra-Sensitive Camera
The EVO II Dual 640T V3's special RYYB sensor features a moonlight algorithm 2.0 that provides excellent noise suppression in limited lighting conditions, further enhancing its 50 megapixel camera to give users more details for better forensics and analysis.
The EVO II Dual 640T V3's .8″ RYYB CMOS offers up to 144%~233% more surface area when compared to 1/2″ or 1/2.3″ competitors for maximum details in high contrast lighting conditions.
RYYB sensor technology moves away from RGB cameras by offering up to 40% more light sensitivity in low light scenarios.
PDAF+CDAF Autofocus System
Never lose sights of your subjects with a combination of PDAF (Phase Detection Auto Focus) and CDAF (Contrast Detection Auto Focus) technology for fast and accurate tracking.